NVIDIA Quadro SDI Output (for Kepler) Compatible Quadro solutions: Quadro K4000/K5000
NVIDIA Quadro SDI Output card is the ideal solution for digital broadcast professionals, who use various applications such as virtual-sets, sports, and weather news systems to composite live video footage onto virtual backgrounds and send the result to live video for TV broadcast. Leadtek SDI Output card also allow film production, post-production, and finishing professionals to preview the results of 3D compositing, editing, and color grading in real time on high definition (HD) broadcast monitors.

This graphics-to-video-out solution delivers uncompressed 8-, 10-, or 12-bit SDI from programmable graphics, enabling a direct connection to broadcast monitors, switchers, tape decks, or SDI projectors.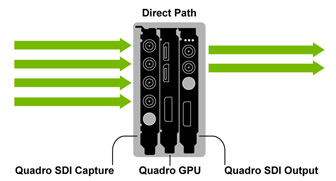 Industry's first fully integrated, GPU-based SDI Solution
NVIDIA Quadro Digital Video Pipeline (DVP) delivers the industry's first fully integrated GPU-based solution for acquisition, processing and delivery of high resolution video. NVIDIA Quadro Digital Video Pipeline provides advanced capabilities for graphics rich production and delivery of video for broadcast, post production, film and new media.
Flexible architecture enables SDI support with NVIDIA Quadro SDI-enabled GPUs
Take your inspiration even further with NVIDIA Quadro FX SDI-enabled solutions, with up to 4 GB of graphics memory and dual or single slot form factors. Featuring NVIDIA® SLI® technology, NVIDIA® CUDA™ parallel computing architecture, and 30-bit color accuracy, Leadtek FX solutions delivers a power efficient, full featured, ultimate performance experience.
Full-featured software development kit (SDK) for optimization of both the graphics and SDI Output solution
The NVIDIA SDI SDK provides ease of programmability and control of the entire SDI pipeline – capturing, processing, and final delivery.
---
Features
NVIDIA Quadro SDI OUTPUT
Uncompressed 8-, 10-, or 12-Bit SDI Output
Enables on-air broadcast, video production and post production professionals to composite and output live video and graphics to true, uncompressed 12-bit SDI in 2K, SD, or HD resolutions and allows direct connection to a broadcast monitor, switcher, tape deck, or SDI projector.
Ancillary Data Support
Supports the insertion of SMPTE RP188 ancillary data into the outgoing SDI video. This ancillary data can include up to 16 channels of embedded 24-bit digital audio as defined by SMPTE 272M and SMPTE 299M, time code and custom packets.
Genlock (House Synchronization)
One genlock (Standard BNC) connector (digital or analog) provides connectivity to a video sync source for SMPTE standard (digital, black burst, tri-level) synchronization. Expanded cross sync functionality permits an incoming house signal to synchronize to a much larger number of video output signal formats.
Output up to 2-SDI Video Feeds from GPU Memory
NVIDIA Quadro SDI Output card connects directly to supported NVIDIA Quadro graphics cards to output video directly from GPU memory to SDI. This direct access delivers the industry's lowest latency SDI output directly from GPU memory.
NVIDIA Quadro FX GRAPHICS SOLUTIONS
128-Bit Precision Graphics Pipeline
Full IEEE 32-bit floating-point precision per color component (RGBA) delivers millions of color variations with the broadest dynamic range. Sets new standards for image clarity and quality in shading, filtering, texturing, and blending. Enables unprecedented rendered image quality for visual effects processing.
64-Bit Floating Point Precision
Image clarity and quality through 64-bit floating point capabilities setting the new standard for computational accuracy.
Up to 4 GB GDDR3 GPU Memory with Ultra Fast Memory Bandwidth
Industry's first 4 GB GPU Memory and massive memory bandwidth up to 102GB/sec. delivers high throughput for interactive visualization of large models and high-performance for real time processing of large textures and frames and enables the highest quality and resolution full-scene antialiasing (FSAA).
Next-Generation Vertex and Pixel Programmability Shader Model 4.0
Reference standard for shader model 4.0 enabling a higher level of performance and realistic effects for OpenGL and next generation DirectX 10 industry-leading professional applications.
NVIDIA Graphics API Extensions
NVIDIA provides a set of extensions to standard graphics APIs for Linux and Windows, enabling applications to take maximum advantage of state-of-the-art GPU capabilities.
NVIDIA® CUDA™ Architecture (High/Ultra-high)
NVIDIA® CUDA™ is a revolutionary parallel computing architecture for NVIDIA Quadro GPUs enabling breakthrough performance in areas such as such as interactive ray tracing, finite element analysis, and computational fluid dynamics.
PCI Express 2.0 Compliant
Doubles the data transfer rate up to 5 GT/sec per lane for an aggregate bandwidth of 16 GB/sec bi-directional (8 GB/sec in each direction).